Residential Inspections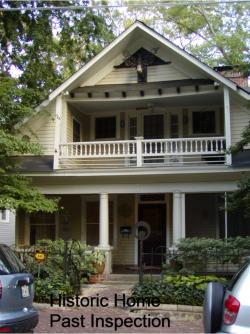 In a residential inspection, all of the major systems of the home or Condominium
are inspected,tested or operated.
Beginning outside; the home is looked at for broken windows, rotted trim, siding issues, gutter issues, etc. The exterior is walked and looked at several times from different perspectives.
The roof is inspected with binoculars (like all inspectors) but unlike many I will climb on the roof if I feel it is best to do so. Many valleys cannot be seen from the ground clearly, and shallow or near flat areas cannot. I am not afraid of falling or the cost of insurance for an employee (I have none) who might fall; my concern is doing the right thing.
I go in attics even if the attic is 120 degrees (which it often is here in the Georgia). I assess and operate any equipment there. I also check the bottom side of the roof decking, rafters, etc. I note the insulation and look for insulation voids.
In the interior of the home, I operate all lights and fans, test outlets (including GFI's), test smoke detectors and door bells, open and close doors/windows. I look for signs of structural problems as well. All plumbing faucets and fixtures are checked for operation, leaks, drips, etc. Under-counter areas are inspected for leaks.
Kitchen appliances are tested and drawers/cabinets are checked for operation.
I do NOT look at cosmetic issues. A hole in plain sight from a fist or door knob is ignored. I assume you know about this since you have seen this home prior to hiring me. If I were to concern myself with every scratch, ding and gouge, I would miss something far more important, doing a disservice to you. In addition; cosmetic issues cannot be made part of an inspection repair list here in Georgia.
The basement or crawlspace is inspected for leaks, foundation problems, framing problems, signs of rodents, etc. Drainage or water seeping into these areas is examined and the source is determined.
All HVAC equipment is inspected and operated and sizing problems checked out.
Electrical panel box covers are removed and interior wiring, breakers, etc are inspected.
Water heaters are inspected, regulators tested, and supply/drain lines are inspected for signs of leaks.
This list is not all inclusive nor is it fully detailed. This is to give you an overview of what is inspected, not train you as an inspector.
Residential inspections are completed all over the entire metropolitan Atlanta area.
This area covers 5 full counties and parts of several counties. The five metro counties are considered to be Fulton, DeKalb, Cobb, Clayton and Gwinnett. The partial counties include: Cherokee, Bartow, Fayette, Henry, Douglas, Forsyth, Paulding and Barrow counties.
The cities and towns include: Decatur, Stockbridge, McDonough, Lilburn, Doraville, Chamblee, Marietta, Powder Springs, Douglasville, Mableton, Austell, Acworth, Smyrna, Alpharetta, Sandy Springs, Milton, Johns Creek, Roswell, Cumming, Norcross, Woodstock, Canton, Dallas, Hiram, Lawrenceville, Dacula, Buford, Duluth, Stone Mountain, Lithonia, Conyers, Snellville, Grayson, Riverdale and several others.
I do go farther away if needed. I have gone up into the North Georgia mountains and to Oconee for clients. I may charge a small fee for gas/mileage depending on the distances involved.
My fees are middle of the range for the North Georgia area I cover,
very reasonable considering my expertise.
Northern Inspections is an Atlanta, GA based Building Inspection company. We perform inspections all around the Atlanta metro area and the North Georgia region. If the zip code begins with 30 we probably go there, or will for a small additional fee. If in doubt, call us at 404-274-9435.